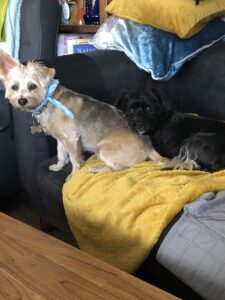 Hi,
Welcome to my blog and a selection of my whimsical musings designed to make you smile. Remove you from the humdrum for a while. Perhaps to enchant and beguile.
I also enjoy writing poetry and song lyrics as I find them to be a valuable cathartic tool for processing my emotions. Working as a nurse throughout my life has afforded me the privilege of caring for people. Having worked in countries such as Saudi Arabia, The United Arab Emirates, Kazakhstan and the UK I have amassed fabulous experiences of culture and people, some of which I hope to share without throughout my blog.
I would describe myself as the adventurous type and more inclined to anything weird and wonderful as opposed to the banal and prosaic. My two Morkie dogs, 'Buzz' and 'Finn' offer me great joy on a daily basis. Buzz is the blonde one and Finn the black one.
Coming home to live in Dublin in 2013 after almost 20 years living and travelling abroad as a nurse was a revelation. I couldn't wait to get out of Dublin once I qualified as a nurse, professing that 'I had no affinity for Dublin'. I realize now that I had to travel and see some of the world to truly understand what an amazing city it is and what a truly astoundingly beautiful country, I live in.
That's all for now.
Have a great day.
Stay fab.
Adele