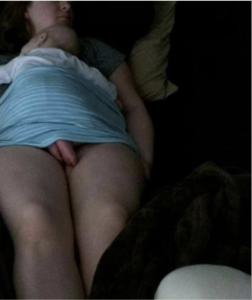 https://www.express.co.uk/life-style/life/594909/Baby-feet-legs-nap-penis
'There's really nothing quite so sweet as tiny little baby feet'.
The attached photo makes me smile. Anything smutty does. It is quite shocking at first, until you realize that it is a mother cradling a baby with the baby's feet representing a rather questionable optical illusion.  It was quite the viral sensation back in 2015.   The poor mother must have been mortified when it was published. Although at least her identity is (almost) protected.
My most favorite viral sensation of 2020 was 'Mabel and Olive' by Andrew Cotter. Particularly 'Game of Bones' which was watched by over 2 million people, including many famous Hollywood celebrities. Such as Ryan Reynolds and Mark Hamill. The Times featured it on their front page.
I am not surprised as his dubbing is genius and his voice is like velvet. So much so, that he wrote a book which I received as a lovely gift for Christmas. It's fascinating reading about the trajectory of a successful viral star. All his previous freelance sports commentary paled into insignificance as he voiced over the antics of his two beautiful dogs.
It is a sign of the times that with lock down comes increased creativity to stave off the frustration of having limited freedom. The number of hilarious memes that has been circulating since March 2020 has always given me reason to giggle, chuckle and on occasion, chortle.
That's all for now
Stay fab
Adele