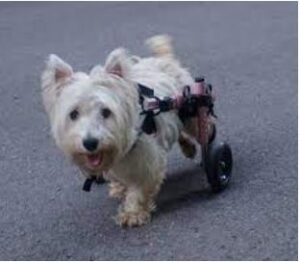 Westie on wheels
https://vm.tiktok.com/ZM8e5B9qw/
How ridiculously cute is Jack the Westie?  I love the fact that the suspense is built up whilst the owner is running to find him.  And the relief to see that he is ok.  When the owner elegantly flips him over and he trots off I was beaming.  And her 'Your welcome' cry as he shoots off between the trees for his next adventure is pure class.
Finn has developed a habit of stealing other dog's balls when we are in the park.   It is becoming a bit embarrassing.  As there are so many new dog owners where I live there are a few regular times throughout the day when we gather for doggy dates.  I keep forgetting to bring balls as I owe a few to other owners.
Buzz has been getting a bit cranky in his old age.  Although he is only five years old.  When the new puppies are frantically bouncing around him keen to play, I think that it all gets a bit too much for him.
Lately he has also taken to stopping at regular intervals whilst we are walking.   I have come to believe that perhaps it is his way of reminding me to be more mindful whilst walking as I can often be in my head.   It is probably more likely that he just wants to stop and smell whatever is wafting past his pretty little nose at that moment.
All the best
Stay Fab
Adele