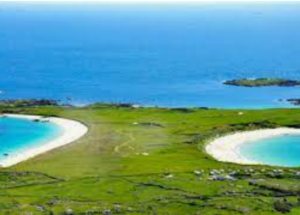 As if yesterday was not fabulous enough, today we head off to 'Dog's Bay' in Connemara.   We debated whether Dogs were actually allowed on the beach and to our relief they were. Otherwise, they would have to re name it 'No Dogs Bay'.
It is famous for being a stunning beach with turquoise water near the lovely village of Roundstone.  But what is even more unusual is the fact that it is a Tombolo. What? Say you? I know.   I didn't have a clue either.
The word has nothing whatsoever to do with a Fairground but in fact means that it is one beach backing onto another beach. In this instance Dog's Bay is backed by Gurteen Bay.
On our way there we stopped in the village of Oughterrard. I began to wonder what our American neighbors would think of this word and the difficulty they may have in pronouncing it.    Words like these are always a true test of Irishness.
We had the hottest day of the year and spent 5 hours dipping in the sea, playing with the dogs and exploring both beaches and another adjacent deserted cove.
There were some cows on the headland of the other cove which meant that Buzz and Finn were on their leashes.   I did not want a repeat performance from Finn of him chasing a poor cow judging by his horse chasing skills yesterday.   Dog's Bay reminds me of the beaches in Thailand it is truly magnificent.   Wonderful memories indeed.
All the best
Stay fab
Adele