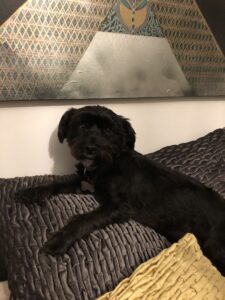 Finn
Hey, how's it going?   I am Finn and my human 'Adele' advised me to share who I am to get a little doggy girlfriend.  There is something called an App and the doggy dating one is called 'Wagger'?
Here is the link to Adele's other three blogs where she explains it all.
http://adeleleahy.ie/elf-on-the-shelf/
http://adeleleahy.ie/the-elf-contd/
http://adeleleahy.ie/new-wagger-app-and-buzz/
I am not sure why I need a girlfriend as I have a fab brother called 'Buzz' and Adele is pretty amazing too.  But here goes.  I love cuddles.  I mean seriously love them.  As soon as Adele takes her hand away, I use my paw to remind her that her hand is meant for only one thing. And that one thing is stroking me and giving me cuddles.  So, I suppose that means that I am a bit needy.   I can't help it really.   I just love them so much.
Ooohh and belly rubs.  They are just the best.  My day needs to begin and end with cuddles and belly rubs or else the day will not be a blissful one for me.  I adore playing with Buzz.  He is the best. I particularly love grabbing his collar with my teeth and pulling him across the bed. He loves when I do this.
Sniffing is another fav pastime.   With poo being my preferred substance.  I like to eat it as well.  But Adele doesn't really like it when I do this.   Or when I roll in it.  When she leaves me off the leash. I get right down and dirty with the smelliest poo I can find.
I believe that my personal best drop and roll in poo was 20 times.  It's just heaven.  But the bath when I get home is not so good as Adele has to wash me for a long time.  But once my fur is dry, I get lots of cuddles again.  I run a lot, when I am off the leash and am very fast. It drives Buzz mad as he can't keep up with me and yelps in frustration.
I hope you like my photo.  I am not really a poser, although this photo does seem to look quite posey.  Say Hi if you would like a very outgoing doggy friend.
Pawsibly your next best friend
Finn