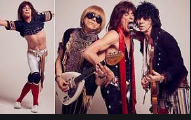 I heard Dave Fanning on RTE2FM on the radio today talking with Anton Savage about these Irish (silly names) tribute bands and they made me chuckle.  I thought that I might share some of them with you.   I got a little bit carried away and decided to create some of my own.
Here are Ireland's top tribute bands (for real)
Abba toir
Red hot chili feckers
Irony Maiden
The Gardai (The Police)
Earth, wind for hire.
Nearvana
Surly Bassey.
Phoney M
Proxy music
Stereophonies
Non-Jovi
Vag Halen (a female tribute band to Van Halen)
This has to be one of my most favorite things to do as it combines two of my passions.
One is music and the other is being silly.
Here are my home-made ones that they didn't think of
Horse did not slip ….( Horslips)
Basement Banjaxed (Basement Jaxx)
The not Happy Mondays (Happy Mondays)
Lots of Doubt (No doubt)
Nondescript (The Script)
Ga Ga Dolls ( Goo Goo Dolls)
Lamp Buzzkit (Limp Bizkit)
Artic Mankeys (Artic Monkeys)
Crude (Creed)
Dope Purple (Deep Purple)
Blank 182 (Blink 182)
Prick at the Disco (Panic at the disco)
That's all for now
Stay fab
Adele