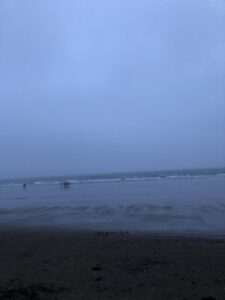 I was so excited last night going to bed and imagining this morning's swim.   I got there at 7.10 this morning having first walked Buzz and Finn. There were a few of the organizers there setting up as one of the girls in the group was celebrating their birthday. Sunrise came around pretty quick and we all started stripping off to head into the sea.
The sky was grey and drizzling us with rain but everyone's spirits were high. It was freezing walking into the sea and freezing in the sea. The waves were great fun and I swallowed a gallon of sea water as I tried (unsuccessfully) to swim through them.
I had a lovely chat with a girl who loves walking but was not too keen on sea swimming.  Trying to convince her of the benefits of sea swimming was futile. It is certainly not for everyone,
Regardless of the cold my icy upper lip prevailed.  I remind myself that my favorite pastime is not all starfish and gentle playful waves and that I must not be a fair-weather swimmer.  Coming to think of it, it is never starfish and playful gentle waves. More like hydro masochism but I still love it.
That's all for now.
Have a great day.
Stay fab.
Adele