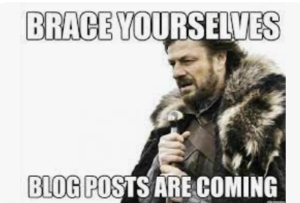 Warning, two of the poems are not happy. They were written when I was sad and were a useful and cathartic tool to help me deal with the emotions of the time. They are Soul Blink and Mosquito Mind. As Daniel Day-Lewis as Christy Brown in My Left Foot once said, 'They were written in my blue period.' And not because I am a closet menstruating Smurf but because whatever was going on at the time required me to write these poems to help me process it.
Poem – Soul Blink
http://adeleleahy.ie/poem-soul-blink/
Poem- Mosquito Mind
http://adeleleahy.ie/poem-mosquito-mind/
Poem -Daisy Dreaming
http://adeleleahy.ie/poem-daisy-dreaming/
Daisy Dreaming is decidedly chirpier and I hope you enjoy it.
Besides my poetry, I always enjoy sharing the 'Best of ', from the last year of blogging. The ones I have chosen are the ones I enjoyed writing the most and when I reread them, they still make me smile. Perhaps they will have the same effect on you?
1. Jan 09th 2022 Naughty Naughty Priest Father King – http://adeleleahy.ie/naughty-naughty-priest-father-king/
2. Feb 7th Little Britain – Fat Fighters Marjorie- http://adeleleahy.ie/little-britain-fatfighters-marjory/
3. Mar 7th Open Mic – http://adeleleahy.ie/open-mic-night/
4. Mar 20th Singing Coffee Van Man – http://adeleleahy.ie/singing-coffee-van-man/
All the best
Stay fab
Adele